A New Jersey teen will probably never be able to drive, despite his love for motorcycles. So these bikers brought the motorcycles to him.
NEWARK, NJ — There's an important lesson the world can learn from the friendship of the Newark Knights motorcycle club and special needs teen Tyler Nelson… angels come in many forms.
Motorcycle love runs in the Nelson family, according to the 17-year-old's father, Chip Nelson. It started when Tyler's grandfather built a Harley from scratch, and continued when Nelson bought his first Harley last winter and began riding with local club members.
It's a love that the Rockaway father has passed down to his son, who used to "light up" whenever he got put on top of a chopper as a child. So when Tyler told his father about his birthday wish – for the Newark Knights motorcycle club to come to his party – it was an emotionally wracking moment.
Despite his fanatical love for motorcycles, Tyler – who has been living with cerebral palsy for virtually his entire life – will probably never ride a bike on his own, his father said.
"When Tyler turned 17, he started asking when he'll be able to drive," Nelson said. "But he'll never be able to."
During an interview with Patch, the 47-year-old father paused to gather his thoughts. "It's a hard thing to tell your child," he said at last.
AN ABILITY TO LOVE
Nelson told Patch that his son endured major heart surgery when he was just two days old. Tyler then developed cerebral palsy from complications that caused a lack of oxygen to his brain.
After therapy, Tyler is now able to walk with assistance and gain movement in his arms and legs. He has a great memory and can speak well. But the 17-year-old isn't able to walk, sit up or eat on his own, making a solo motorcycle ride a dream that may never come true.
Still, while he may never be able to climb aboard a bike himself, Tyler is blessed with a character trait that truly sets him apart, his father said: his ability to love.
"Tyler and many other special needs children have so much love inside them that they want to give," Nelson told Patch. "They don't see 'bad people.' Tyler's greatest joy in life is meeting people, telling them that he loves them and asking for hugs."
The 17-year-old has a particular affinity for birthdays, partly because he's aware of the significance of his own birthday and what it represents to his parents, Nelson said.
And that's where the Newark Knights came in.
DON'T JUDGE A BIKER BY THE COVER
The Knights first heard about Tyler's birthday wish after participating in a recent Memorial Run fundraiser that benefited a deceased friend's favorite charity.
When the elder Nelson reached out to the Knights and asked if some of their members would attend his son's birthday party, it was an opportunity to do some good that they just couldn't pass up, club spokesperson "Lady Groove" told Patch.
"I brought the matter before the club and the answer was a resounding yes," Groove recalled. "Tyler was ecstatic to see that many motorcycles show up all at once. And it was all for him and him alone. We laughed, prayed and bonded with him and his family… the day was absolutely beautiful."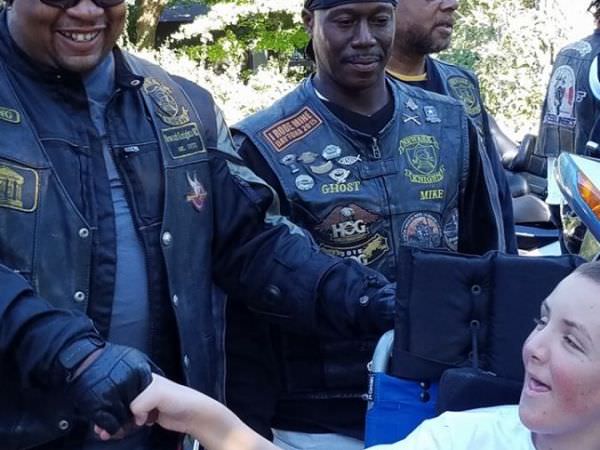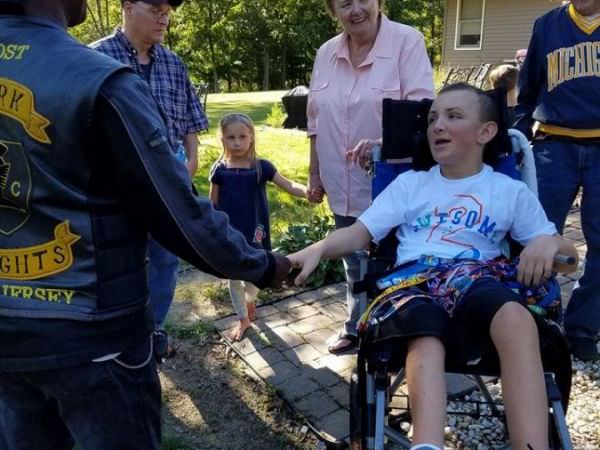 Source
---